Taylor Swift fans' "Wildest Dreams" came true Sunday thanks to the NFL. 
Swift was spotted cheering on rumored new boyfriend, Travis Kelce, during the Kansas City Chiefs game at Arrowhead Stadium.
Almost as soon as the "Cruel Summer" singer was seen sitting next to Kelce's mother Donna in a private box, social media chatter erupted in support of Swift celebrating Travis' win against the Chicago Bears. 
TAYLOR SWIFT APPEARS AT CHIEFS GAME TO ROOT ON TRAVIS KELCE AS DATING RUMORS REACH FEVER PITCH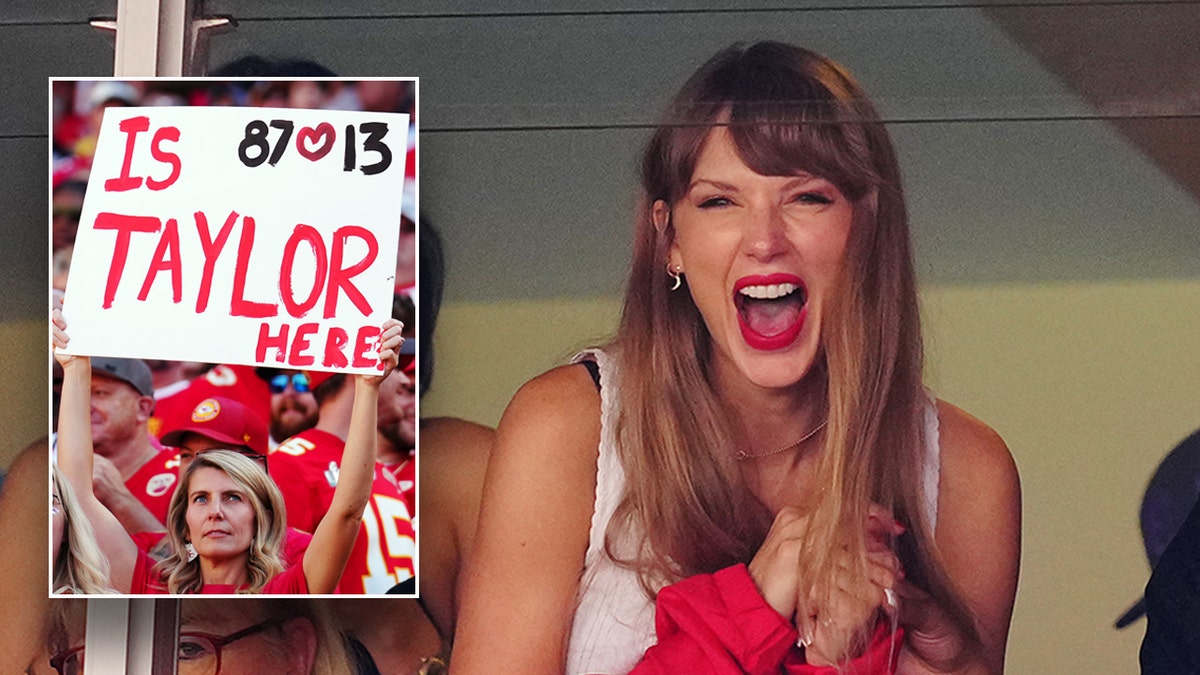 The 12-time Grammy winner remained focused throughout the game, and wore a vibrant red jacket and white shirt to match the colors of Kelce's team.
"Nobody has had a cooler 2023 than Momma Kelce. Both sons in a Super Bowl and now she's sitting next to Taylor Swift? What a life," one fan wrote on X, formerly known as Twitter. 
TAYLOR SWIFT STEPS OUT WITH EX-BOYFRIEND JOE JONAS' ESTRANGED WIFE SOPHIE TURNER, AS TRAVIS KELCE RUMORS SWIRL
Another fan appeared to catch the rumored couple leaving the stadium together side by side after Kelce's win.
A few minutes later, Kelce seemed to be driving the pair away from the stadium with Swift in the passenger seat of his convertible car.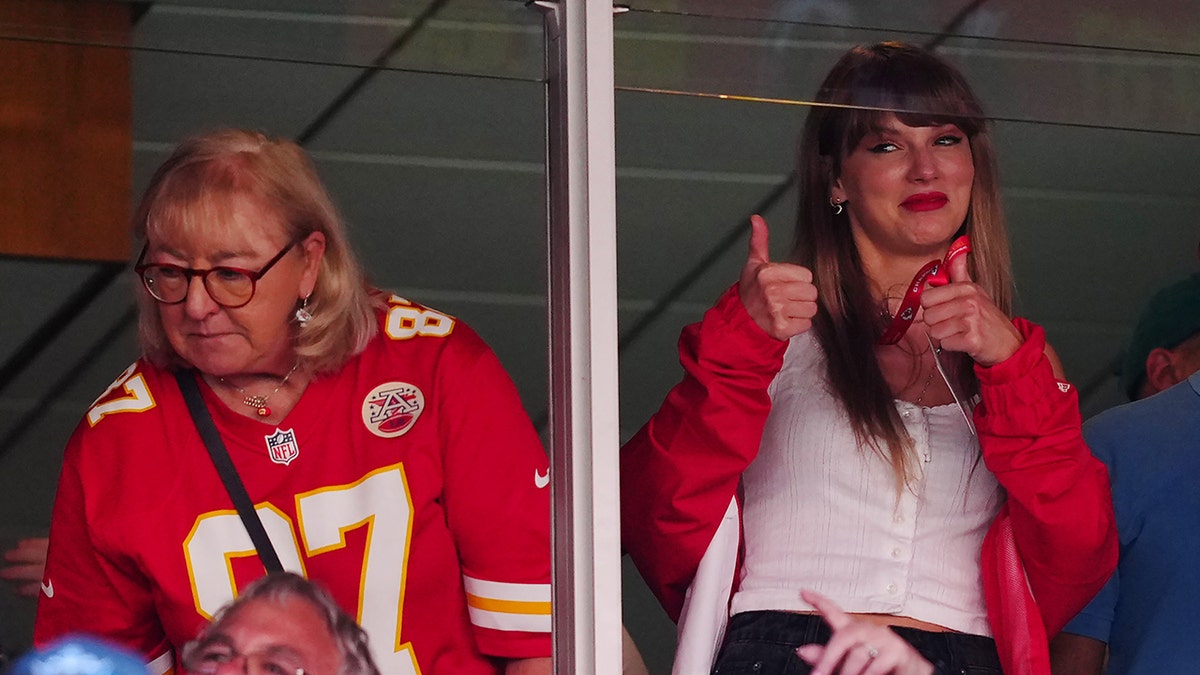 Travis was still wearing his unique denim suit with bleach-dyed patchwork details.
One user tweeted, "Alexa play Getaway Car by Taylor Swift."
LIKE WHAT YOU'RE READING? CLICK HERE FOR MORE ENTERTAINMENT NEWS
Kelce's teammate, Patrick Mahomes, seemed to be aware of the biggest guest in the house, too.
He told FOX Sports' Erin Andrews, "I knew she [Taylor Swift" was in the house …. so I knew I had to get the ball to Travis."
Swift previously dated British actor Joe Alwyn. The former couple reportedly first met at the MET Gala in May 2016 when she was dating DJ Calvin Harris, but kept things strictly platonic.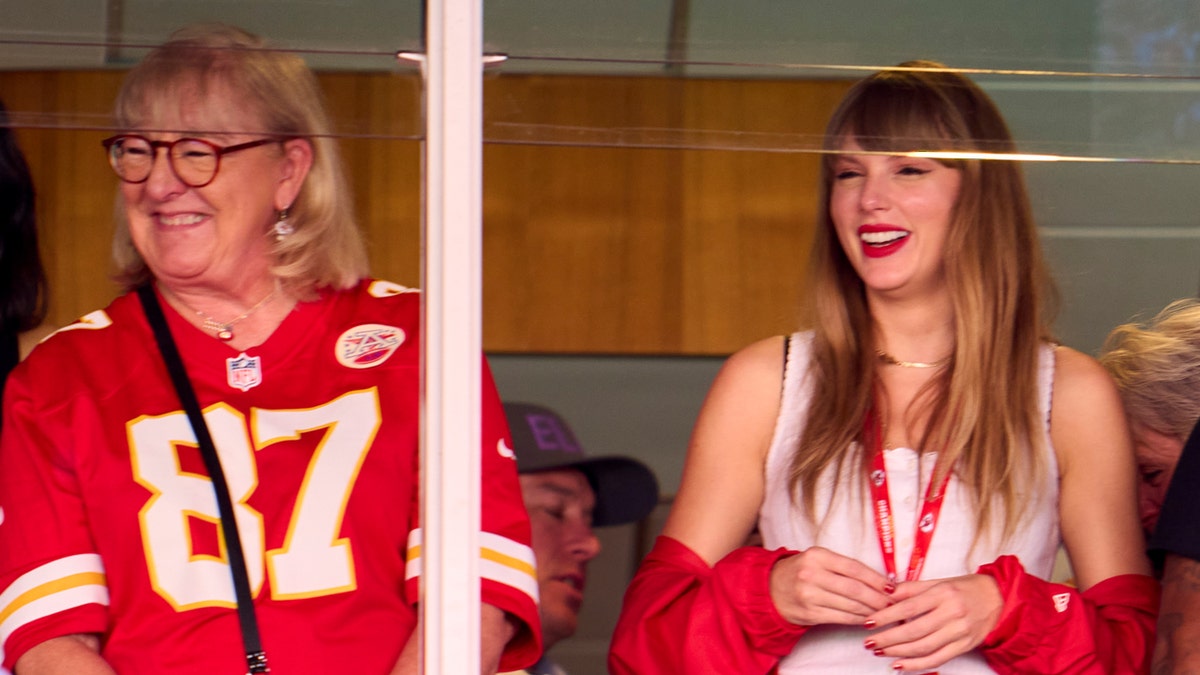 Harris and Swift split in June 2016 following a year-long relationship.
In July, Travis made it known he was trying to get ahold of Taylor in any way possible. 
LIKE WHAT YOU'RE READING? CLICK HERE FOR MORE ENTERTAINMENT NEWS
While chatting with his brother Jason on their "New Heights" podcast, Travis gave insight on attending "The Eras Tour" in Kansas City, and his missed connection with the "Anti-Hero" singer.
"I was a little butt-hurt I didn't get to hand her one of the bracelets I made for her. If you're up on Taylor Swift concerts, there are friendship bracelets," Kelce said of the handmade jewelry Swifties commonly pass out to each other at shows.
"And I received a bunch of them being there, but I wanted to give Taylor Swift one with my number on it."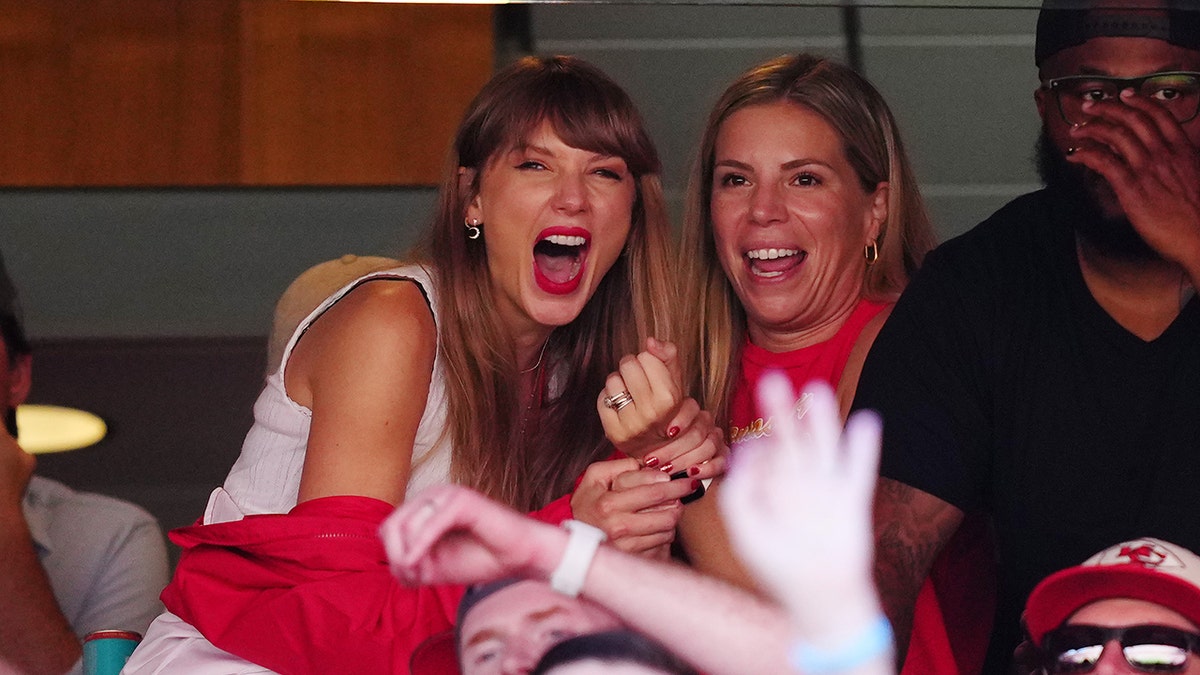 "And I received a bunch of them being there, but I wanted to give Taylor Swift one with my number on it."
He followed up with an appearance on "The Pat McAfee Show," and said: "I threw the ball in her court and told her, 'I've seen you rock the stage in Arrowhead. You might have to come see me rock the stage in Arrowhead and see which one's a little more lit.'"
Swift sang her way to the top of the charts in July, earning more No. 1 albums than any woman in history with her latest re-recorded album, "Speak Now (Taylor's Version)."
The catalog is her 12th album to reach the top spot, and Swift ousted Barbra Streisand from the coveted position with 11 No. 1 albums.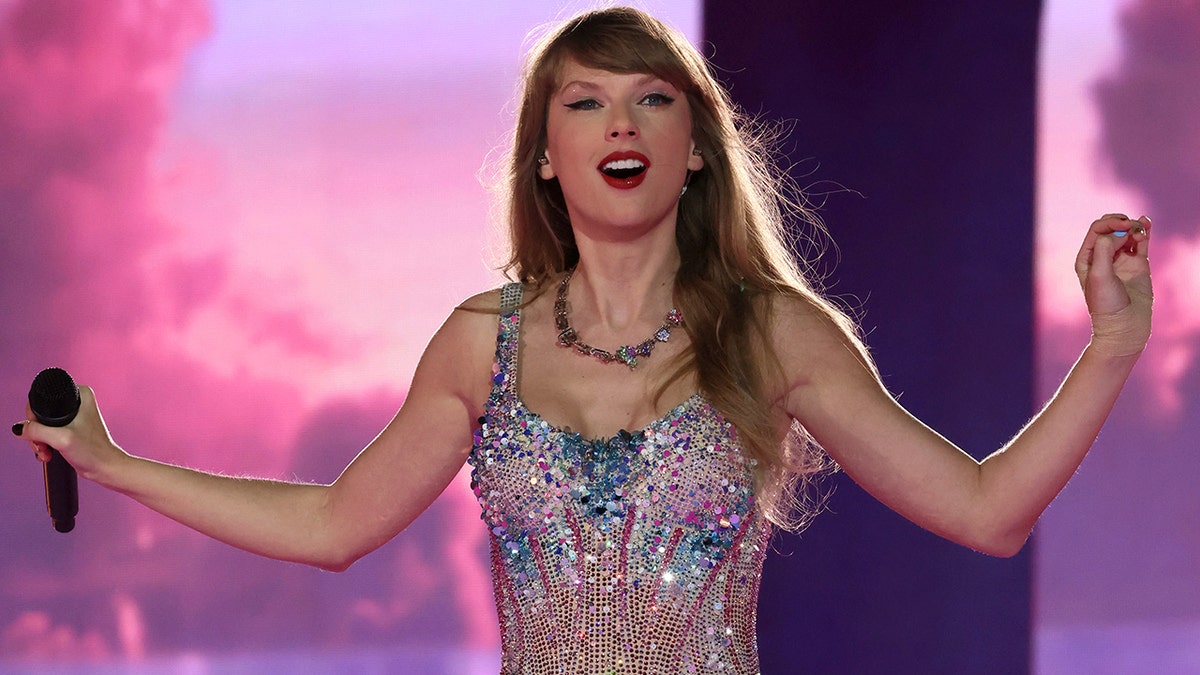 She released the 22-track album on Friday, July 7, nearly 13 years after first releasing the award-winning album. Swift announced her next re-recorded album, "1989 (Taylor's Version)," will be released on Oct. 27.
One month before, Taylor earned a spot on Forbes' 2023 list of America's richest self-made women.
CLICK HERE TO GET THE FOX NEWS APP
Swift ranked 34th on the index with a net worth of $740 million. The "Maroon" singer is the second-richest female musician on the list following Rihanna, whose net worth is reported at $1.4 billion.
She released "Midnights," her 10th studio album, on Oct. 21. The 13-song disc broke records, including "most streamed album on Spotify in 24 hours," and was also the bestselling release of 2022.